Empowering Potential Geeks & Contributors
Delegation Support Update!
As an advance Report of the Support Delegation for Promising Users! Let us give a warm welcome to @jayce1729 a user personally supported from me giving her delegation to discver the wonders of blockchain technology! Please give @jayce1729 a round of applause, if you want to support her, please do so by boosting her post using SmartSteem.com .
Undelegation Update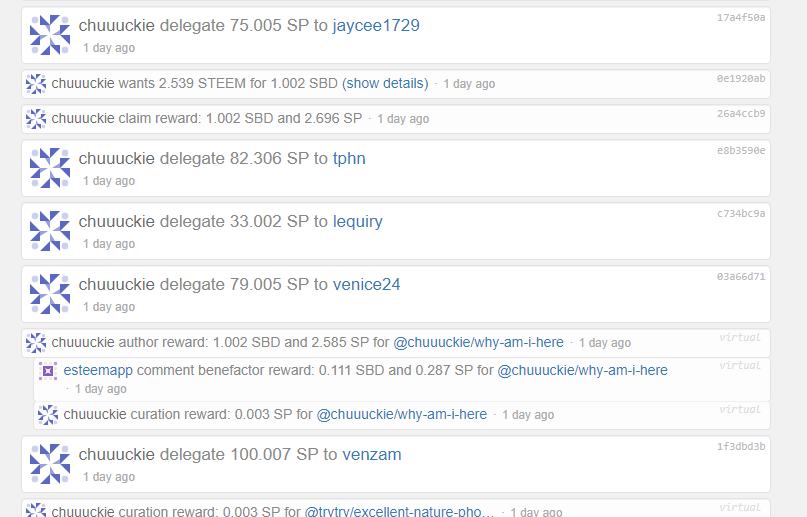 @tphn
@lequiry
@venzam
@venice24
are growing as fast as expected, if there were no dApps existed in the steem blockchain. This community would be useless and senseless, with dApps powered by the Steem blockchain that rewards the users. It is much better to rewards yourself with a free breakfast/coffee from a single post/idea you are thinking right now. Every contribution you make is already a value, unlike other APPS such as Facebook and ETC, youre posts are not valuable but instead the company (facebook) values your posts because you are the product from the advertisers. The more ads, the more profit it is for Facebook.
Now, I am starting to regulate these users some SteemPower to support as many as I can. I still also have to delegate more to @actifit for a small investment. Rest assured that I will be completely supporting these users until the very end. (But not literally give them money) PS: You need to earn money through your efforts guys, Im sorry :P.
!Rain 5 Steem

Keep it up guys! Dont waste my Delegation for nothing, consider that your guys are lucky enough 😛 , because I can easily get my delegation and invest it to other dApps, Ill have more profit from my money, but I keep thinking. I should also invest my power to users who wants to contribute more in this ecosystem.
As Always, Enjoy the Journey! Happy June (soon)!