Canva
To be a talented SteemHunter!
SteemHunt is already running for a year now, and there are many users who has been participating at SteemHunt on a daily basis, even now there are still users who have been posting and sharing the apps/products they want to showcase. But to be a talented SteemHunter is not to be talented at all.
Sounds crazy right? – it is, everything is not really a talent here. Everything is about hardwork and attitude, if you want to dig more deeper from your search of a hunt, you need to find whats best/better that the audiences may like, in my own opinion. There is no such thing as Talent. Just practice, hardwork and attitude.
Q: You mean there are no Talented Hunters in the Platform?
I have seen some, but the again. Some worked hard for it, they are hustling in this platform. Some users hunt great products but they dont post on a daily basis.
Where to find Products/Apps (A Hunt)?
You know the first place you want hear about is Google. Yes, everything is at Google. Every app/products official websites and platforms you may simply find it there. If you also want specified categories you may edit it from its search settings. You may also find Games from the Steam website, but after finding a cool game or a nice game, you have to find the Official website. (Because there are millions of games existed).
It is also not necessary to be a cool product(s). It just has to be like a 'Useful' app/product that contributes to our society or in our daily lifestyle. Example of a cool/useful app/product maybe for developers, kids, parents, or teenagers is this -> Anti Knife Gloves
Q: If it is Useful, is it already considered Cool?
Yes, if you are the consumer/user of that product/app, you may find it Cool. Some couldn't relate into it, thats why you have to know your audience and also the product itself.
What (I) want to see on a Hunt post?
Just like this Post. Simple but detailed – that was before when SteemHunt accepts more than 1000 words on a hunt. Since Steemhunt is a "product hunting" site, not a writing curation site. Posting Guidelines No. 5
Id also would like to see a Hunt with a great format, good grammaring, non-plagiarized content, GIF image (construct your own GIF, you can actually w/ GIF slideshow that should do it)
But that is in my own opinion.
What are the requirements to post a Hunt?
Its pretty simple, you will just have to read the posting Guidelines. here read it all there, I dont have to copy/paste it by the way.
After reading the Posting Guidelines above.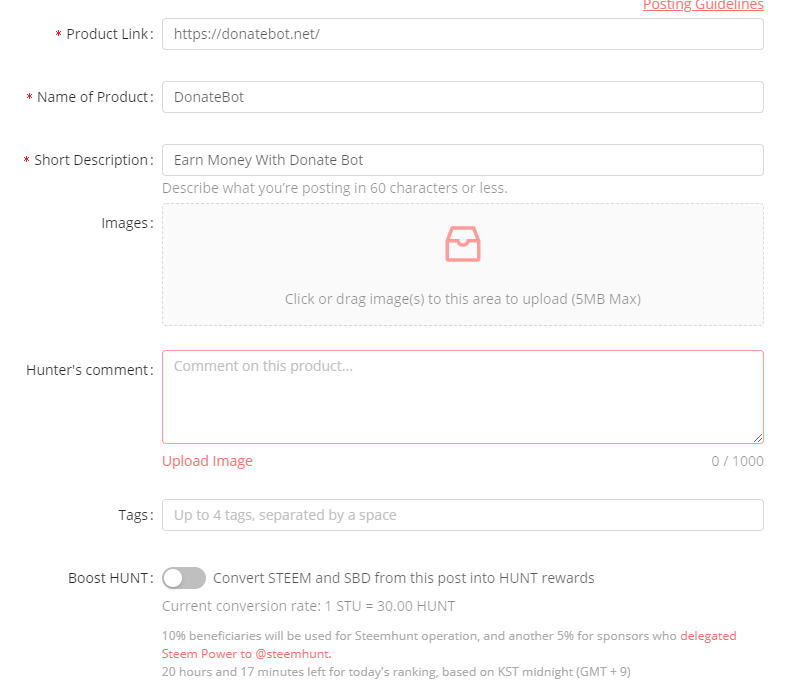 Never forget the following..
Product Link (That is the Official Website of the Product)
Name of the Product (Just Copy and Paste it, double check the title 1 mispelled word will lead to a delisted post)
Short Description
GIF/PNG/JPEG Images
Your Comment about the App/Product
Optional: Boost your Hunt (In a nutshell, choose if you want to be rewarded with Hunt Tokens or just Steem Tokens)
Dont forget the related tags of your post. Keep it related
Hunt Approvals
Please be patient for a Moderator to Approve your hunt, if your Hunt was not approved by anyone within 24 hours, please seek the Community Manager which is our one and only @jayplayco. Remember to report it at #bug-report channel. Maybe the Moderators were not able to see your hunts because there were slight errors.
Also, if you want to appeal a delisted hunt, or appeal to delist a hunt because Moderators aren't perfect at all. Seek also the Moderator, read the pinned message from the #mod-appeal channel in our Discord Server and follow the format.
Tag the moderator
Put your Steemhunt link (URL)
Reason-to-appeal
This is the format of appealing a hunt.
How do we Interact with each Other
Here is our Discord Server link – https://discord.gg/dmFu9qy not to mention, each channel has a specific rule and specific topics. If you dont want to disturb others as well as the team, you may visit us and have a cup of coffee at the #coffee-lounge channel. You will be meeting amazing and most helpful users in this platform.
If you want Free Hunts, @calprut is there. If you want to lend some money @aamirijaz is there, if you also want a Dr., @monajam is here, and also if you want free Chickens we have Mr. @mawahab.
Q: You are not active Master Chuuuckie!?
DMs are also welcome, just leave a message and wait for a reply. We are not a robot that replies immediately from your help. Please understand that we have our own lives as well.
How to understand HUNT tokens
In a Nutshell or simple explanation, Hunt Tokens are SMT based tokens here in the Steem Blockchain. Just like ETH and other blockchain, ETH has SUB-coin like Avinoc, Goat tokens and more. But the Uniqueness of SMTs or the HUNT token is that investors are companies can trade these tokens just for trading and fun, to utilize it and promote a specified app/product, run a bounty programs from your specified request, run privately/pick someone to promote this and that, and also crowdfunding just like Indiegogo.
Q: Still Complicated to understand?
Company pays, you earn from their bounty rewards post it on your social media accounts on any paltform whatever their requests are. There you have it, SMTs (Hunt)! PS: Hunt Tokens are ERC_20 based tokens, waiting for SMT's to be released
How to prepare for ReviewHunt
That really depends from the User if they want to proceed to ReviewHunt. Although you may still post at SteemHunt. If you want to be fully pledged ReviewHunter, you need a good camera, a good PC and a good studio room for your Reviews. I wont make this a long paragraph here, it is still depends from the user, it also depends from their budget.
Q: Hey Chuuu, are you ready for ReviewHunt?
No. Hunt Tokens should have a price of 0.04 atleast, so some Hunters will sell the tokens and buy it for ReviewHunt. But my Skills are ready (Mainly in editing)
Vote for SteemHunt as a Witness
SteemHunt is an Awesome Project, the first and the most successful dApp existed in the Steem Blockchain. There were lot of Improvements Vote Here