---
Shot by Canon EOS 700D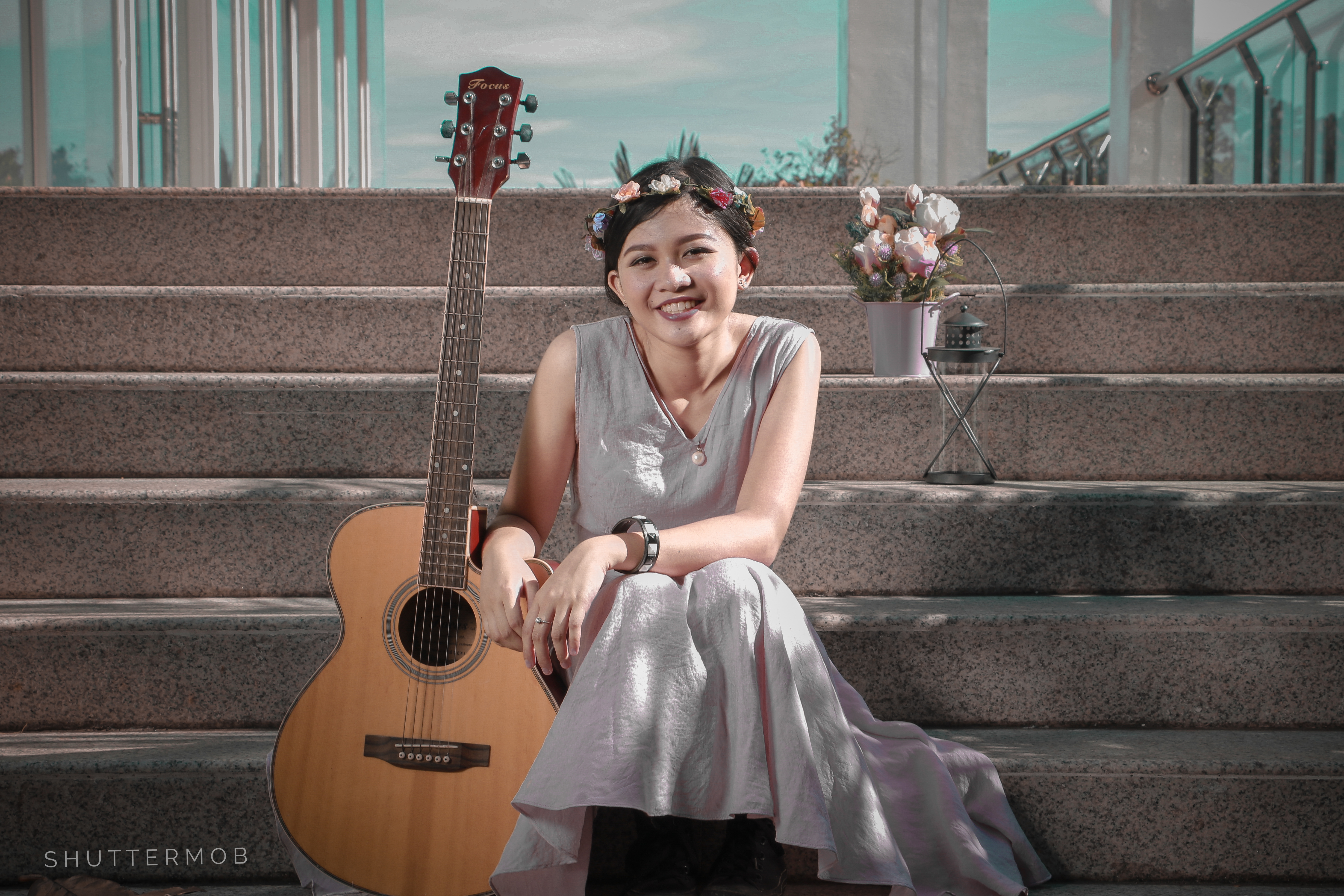 Shot from the month of February near Punta Engano – Lapu City. This was Sunday afternoon, pre-debut photoshoot for my sister. Morning photo shoots are the best environment camera friendly. It is because it supports the photographers need of the lights. A reflector was also useful at this time, because the sun was against us, we have to manage the light properly.
What we really dont like in regards to our reflector is our subject is seeing bright lights from the sun because of the reflector. It might be annoying sometimes for my sister, but she has to endure it while taking some photos on her. The setting was also perfect with her guitar, the basic stoned stairs and the glass doors and terrace from her background.
So we manually set our camera to 1/400 – 1/200, lets play along with the shutter speed because we are using a kit lens which is fine and okay (not recommended). Basically with an ISO sensitivity of 100 – 400, again lets play along with the manual camera settings, next is our aperture which is fixed, probably we need to standarized it into 4.0f. I mean, what can you expect from a kit lens right?
In our adobe light room, luckily the photo was shot in a RAW + JPG file, so we don't have to worry about the file format. Normally in my pictures, I tend to make color blue leaning to teal, because it is much more appealing. I scaled down the highlights into -100 so we may able to see the sky background, the shadows are not a problem because we have our reflector to our subject which is my sister. I also played along with the sharpness and the vignette of the photo, because it was too bright and there was no need to adjust the exposure. Everything was fine at this moment, export is into JPEG and to the highest quality.
Color Pallete

Credits to Canva for the Color Pallete Generator
Thanks for Reading! What are your own opinions about the photo, do I still have to improve it? P.S. Photo and Watermark is Official mine.
Camera Settings
| CAMERA MODEL | Canon 700D |
| --- | --- |
| LENS | Kit lens 18-55mm 3.5f-5.6f |
| ISO | 400 |
| SHUTTER | 1/400 |
| APERTURE | 4.0f |
| FLASH | No |
Support & Visit my Official Website ChuckUnlimited