Check out their Latest Post about IDCMKorea here
The First SMT to be Sold!
The HUNT Platform isnt just about SteemHunt, it is a wide platform from posting Products/Apps/Gadgets/Stuff to ReviewHunt – reviewing actual products like some Youtuber does and literally introduce and influence the product to the viewers from your own views and opinions, then to IdeaHunt where users may be able to Crowdfund their products same as Kickstarter and Indiegogo. The Unique thing is, it is similar from those two but it is powered by the Steem Blockchain!
Bring the Value Up!
We notice that there are users who are urgely want to sell their shares from the longest airdrop, without realizing this will make the price go lower and lower if they keep selling Tokens. Its their own share, we cannot stop them from selling their Hunt Tokens.
In addition, bringing the HuntToken's value up is not to abuse the System, such as the following.
Creating Multiple Accounts to Post Multiple Hunt and Milk the System
Effortless Comments that brings no real Value to the Hunt Platform

Example comment that brings no Value, but still voted by a User
We shouldn't dissapoint our Investors right?
Expected Market Capitalization? IMO
Well the good news is,

With @project7 monitoring the IDCM Market in this website and included a Stop watch -> https://www.idcmkorea.io/coinsale/detail/Hganz8EMq02952COxQAiUA
It sold out within a span of 3 minutes, the team now aims at 200% because it is famous in IDCM Korea, as per @project7.
Im not a trader nor an Investor, Im the one who will be working in the Ecosystem that is why I would expect a Market cap of $10,000,000 – $20,000,000 USD in Minimum.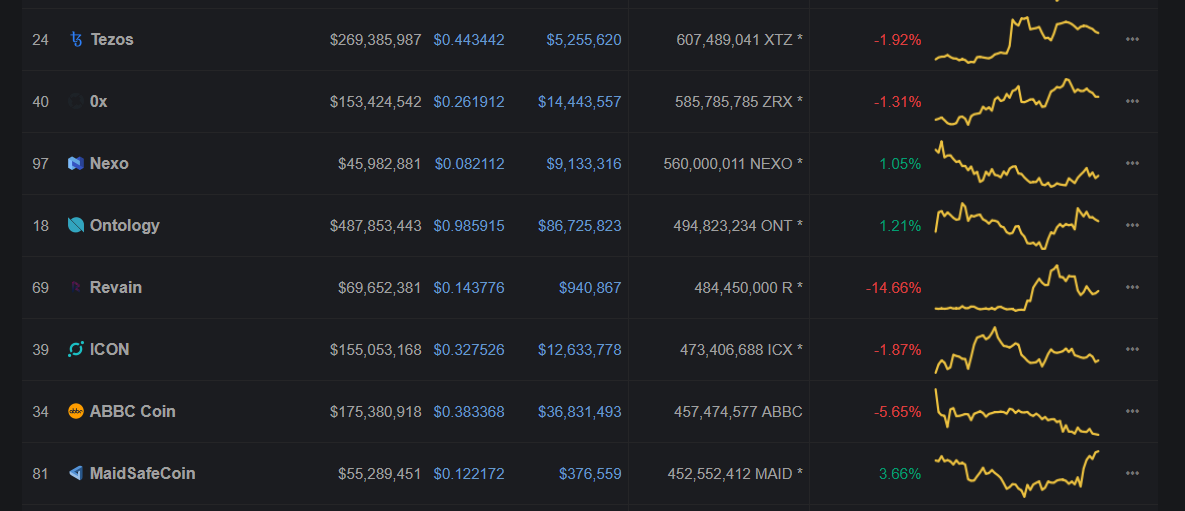 Cryptocurrencies with almost the same Supply
PS: Do we even know what these Cryptocurrencies are used for? Some are only for trading and gaining profits. We really dont know what is the real purpose of their Tokens, except for SteemHunt – HuntTokens brings more value becuase SteemHunt is an active community, and it runs from the fastest blockchain and the most easiest to understand how the blockchain works. So we should be expecting more than the market cap mentioned above.
ReviewHunt?
ReviewHunt will be a gamechanger to the Steem Ecosystem and to the whole Blockchain World (not just Steem, but also every Cryptocurrency existed). ReviewHunt is currently In Development, so we are about to see a new announcement within the next few weeks or so.
In summary ReviewHunt will be a place for Geeks/Users that who would want to review a Product/App given a bounty in exchange. So far, we really have no idea when or how amazing ReviewHunt would be, given that the Bounty for Upvoting hunts, comments and delegation sponsors are decreasing.
GeekNest x Hunt Platform x Steem @geeknest
We are Happy to Introduce our Final ReviewHunt Studio Hub for Steemians and Hunters. The Hunt platform is a Community driven Platform, there will be expected new users and new comers. We would also love to help them build their own Vlogs/Blogs, we will not just be focusing on the Hunt Platform but also at @dtube, steem, @steemhunt, and maybe @oracle-d. But mainly in ReviewHunt.
We are already planning on renting or even buying our own Studio Place, even if it costs a lot of capital investment, we already reached one Ambassador from Fundition.io and ask a few questions on how to Launch a Campaign. We are planning that the Studio would have no "boss" or "Project Manager", just stay in the studio and then help out each other, and post/blog/vlog on your own pace, you dont have to pay the studio it would be the steemians who wants to donate for the maintenance only, I will be making an announcement after the ReviewHunt is released. We are also at 190 likes at our Facebook Page, we are still working it out and waiting from the ReviewHunt Announcement.
Follow Links Here
https://www.facebook.com/GeekNesters/
Twitter – Soon TBA
Youtube Channel – Soon TBA
Fundition Campaign Link – Soon TBA
Dont forget to Vote @steemhunt as a Witness!
Vote Here