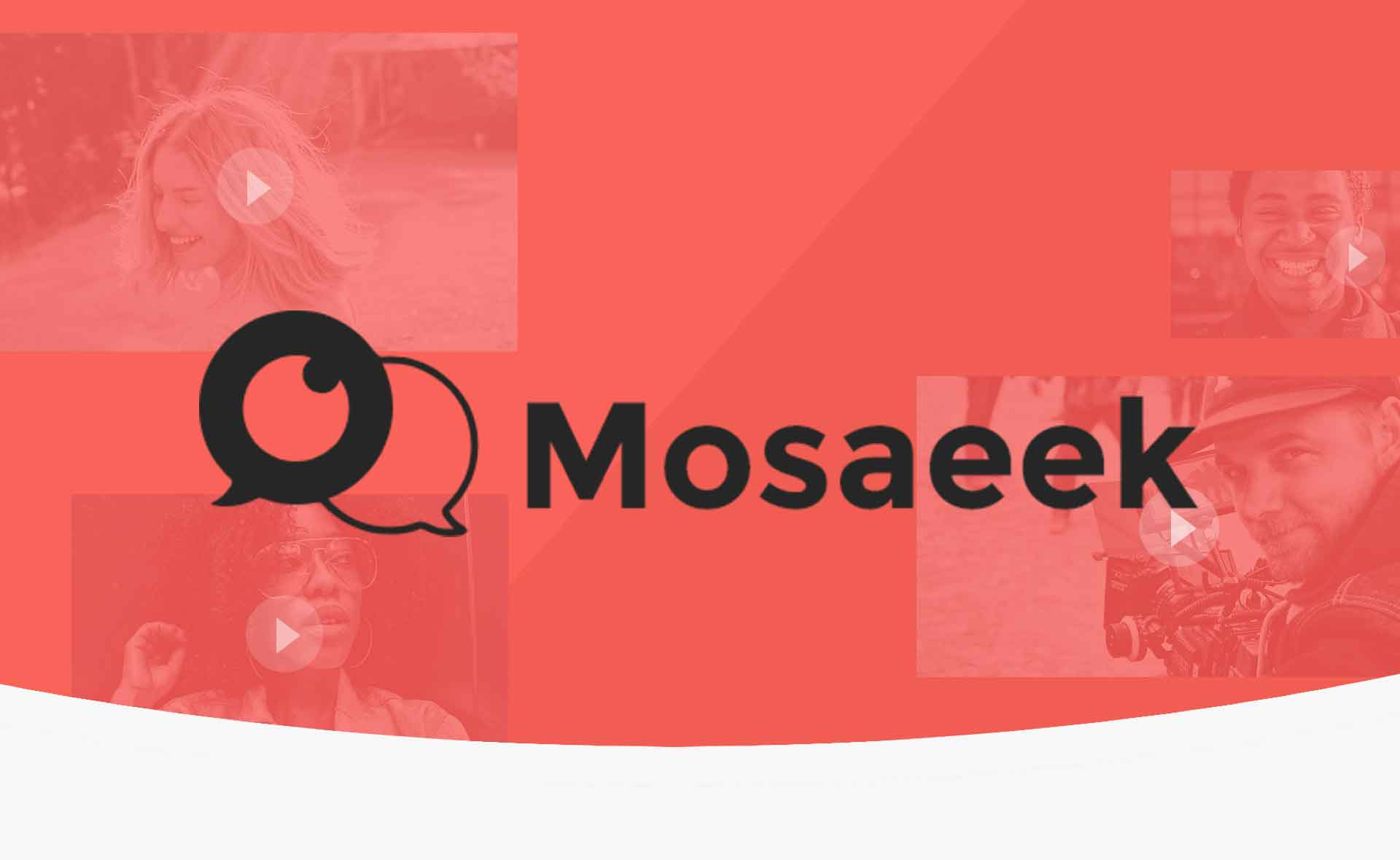 What is Mosaeek?
Mosaeek is simply a webapp in the internet or browser where you may react into others videos in a Unique way by uploading a video from the moment of time you wanted to react on a certain part. Unfortunately Mosaeek doesnt have their own iOS/Android app (yet?), but you may just simply use the app by using your mobile browser, or even with your Desktop/PC.
Creating Videos are Fun!
Creating videos with content is a Lot of Fun, especially you want to engage with your audiences just like PewDiePie did with his LWIAY (Youtube's Favorite Show), aint it fun that you will be watching your audience react to your video, especially when you only have small audiences. In that way, you may watch them react your own videos, or the videos youd like to share and see their reactions from it.
New Way to Interact with your Audience
Based from what I experience using the App (Unfortunately I was trying to convince my fellow peeps to use this app for a while) – the app is amazing, in fact I really was into taking it too seriously, but then I realize this is similar to other platforms like tiktok and snapchat. So immediately just used the snapchat filters and upload it instantly, because I dont have time to edit this when you can just upload and try the app right?
Here is my video, thanks to @camzy for reacting my video first. Others seemed not to react from it, I think Ill just wait.
Ratings & Conclusion
I still think that there is a room for improvement from the app since this was just the beginning of their launch, luckily they only spend a few euros to promote their app. Missing features that they need is a news feed, follows, subscribe and etc. (If necessary, I still dont know if they need this by the way)
I also think Filters would be amazing in addition when they can already launch their own iOS/Android app, – by the way I havent asked yet if they will be launching it.
Ill be rating this webapp for 7.5/10.

Join the Quest!
The Mosaeek Team has Launched their Marketing Budget at ReviewHunt, times ticking! Hurry up and register to review.hunt.town , simply follow their guidelines!
Q1: Share your latest Video!
At first this was pretty confusing, instead I upload a new video and share it to mosaeek website.
Q2: Upload your own Reaction!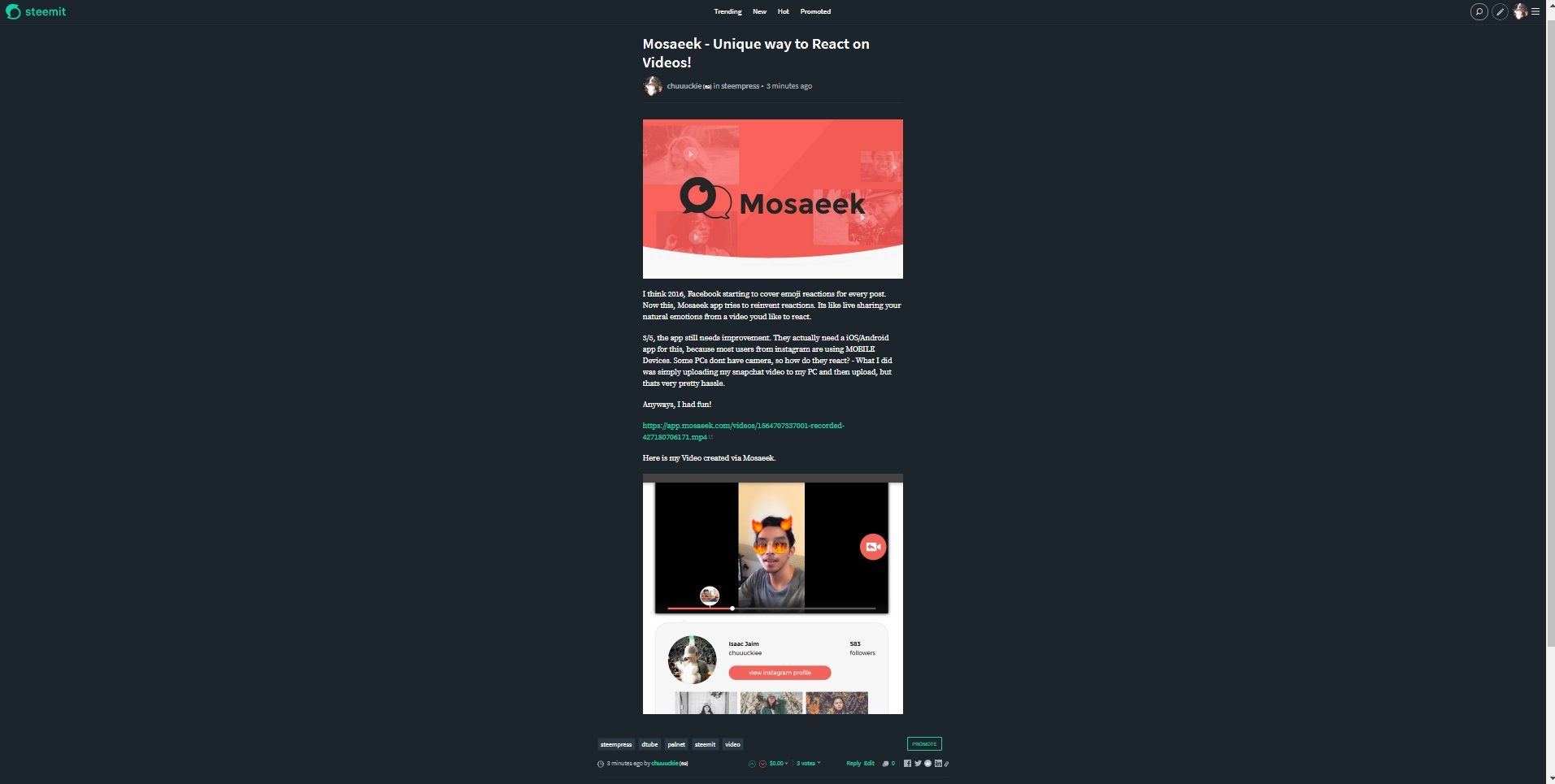 This was pretty simple, you just have to record your own video LIVE using your desktop or your mobile browser device.
Q3 (OPTIONAL but BONUS): Get 2 Reactions from your Video Created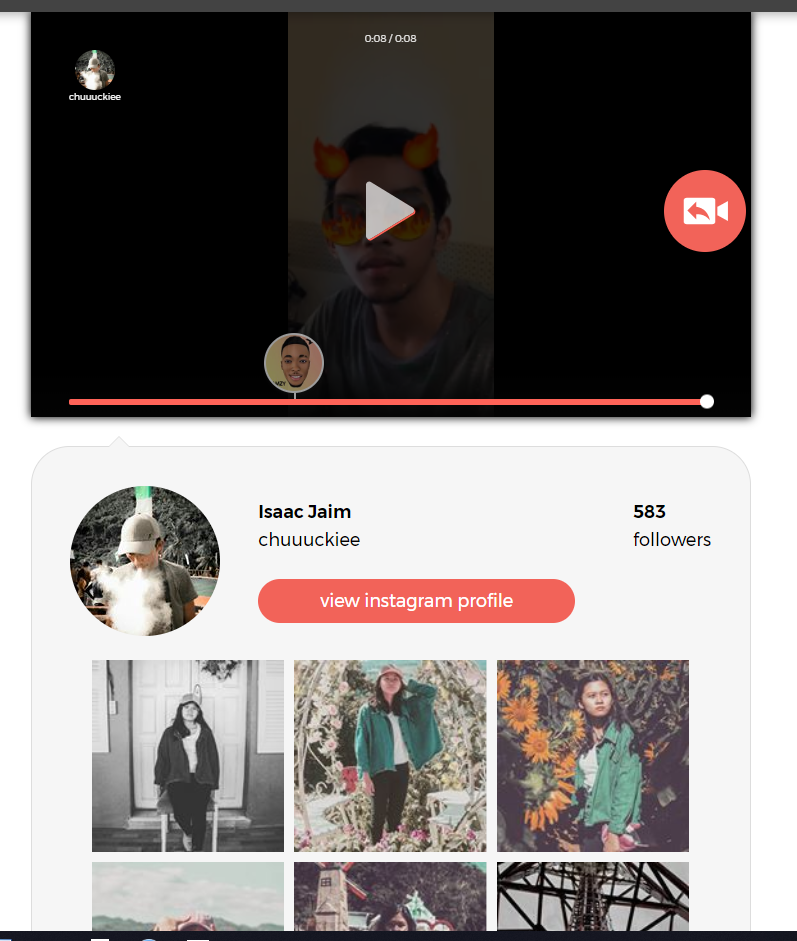 I dont have 2 reactions yet, I am still waiting for that moment, while waiting ill be discovering new videos and help them get some reactions.
Contact and Follow them Here!
First, you will be needing a Discord Account, such as installing the app on your Mobile or use it from your browser via PC and then Click here to Join their Discord Server!
Follow them @mosaeek at Steem
Follow them @mosaeek at Instagram https://www.instagram.com/mosaeek/
Subscribe to their Youtube Channel https://www.youtube.com/channel/UCtXRZYrUc_RPZBThHoZlchg
Follow them at Twitter https://twitter.com/mosaeek_tv
Like their Page at https://www.facebook.com/mosaeekAPP/
Visit their Website at https://mosaeek.com/
Here is a Youtube Video!
(To be Edited!, To be Uploaded!)
Index and Credits
PhotoRating1