Full closure and a disclaimer: I'm not a Professional trader nor an Analyst, Im doing my own research and would also love to share my own opinions about the topic. source
BitCoin is the Mother of all Cryptocurrency, the first of its kind, and without bitcoin there will also be no AltCoins, no Steem – Ripple – BitCoinCash you name it. Bitcoin almost had the price of $20kUSD it all suddenly stopped and dumped down to $10k to $6k. Now a lot of "new traders" that starting to trade with bitcoin starts to shakes their heads if trading with bitcoin is profitable or not. Mind you and based from my own observation – its not going down to $6K USD.
Last 2 months ago – McAfee the greatest Crypto Influencer just tweeted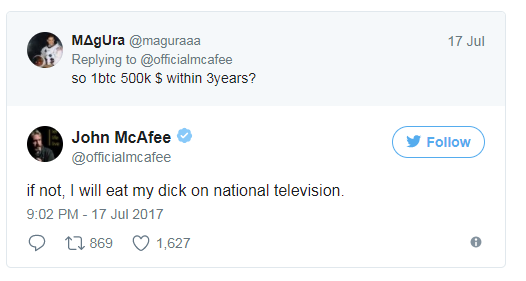 The question is, "Will he suck his own d1ck?" for sure many of the traders and audiences reached this tweet, and alarmed most of the people because of the tweets about bitcoin before it reached almost $20K.
But in my own opinion, I think Bitcoin will not rise by the end of year – instead we will have to wait more months and days. To think that SteemHunt will also be fully launched this 2020, coincidence? I think not, also for SMT's to be released this 2019 of February, again is it a coincidence, or being planned along with some guy with an awesome plan, when you talk about strategy he knows how to play the game, and that game is like a chess. "We cant predict its moves when it has misdirection or the plan is 10 steps ahead" conspiracy? No, just an observation.